Day 8
The Betrothed by Alessandro Manzoni
Chapter 7 (through p.108: "respective ranks.")
February 28, 2023 by Michael F. Moore
A couple of side notes as we begin week two:
A word about the Capuchins, aka, The Order of Friars Minor Capuchin. They were founded in 1525 to reform the Franciscan Order, which they felt had veered too far away from the life of solitude and penance exemplified by St. Francis of Assisi. (For a deeply moving portrait of Francis, see the film The Flowers of St. Francis, directed by Roberto Rossellini). The name "Capuchin" (Cappuccini, in Italian) is derived from their habit, which features a hood (cappuccio). The coffee drink cappuccino takes its name from the brown color of their habit. As does the capuchin monkey.
---
The city of Mantua, to the southeast of Milan, was one of Renaissance Italy's most brilliant courts. Ruled by the Gonzaga family, in the fifteenth century it was home to the country's most important humanist school, where the sons of Italy's elite went to study. While Francesco II Gonzaga was off fighting battles (or held hostage by the Venetians), the city was ruled in his stead by his wife, Isabella d'Este, a leading figure in Renaissance politics and culture, and one of the most remarkable women in history. This sketch of her was done by Leonardo da Vinci: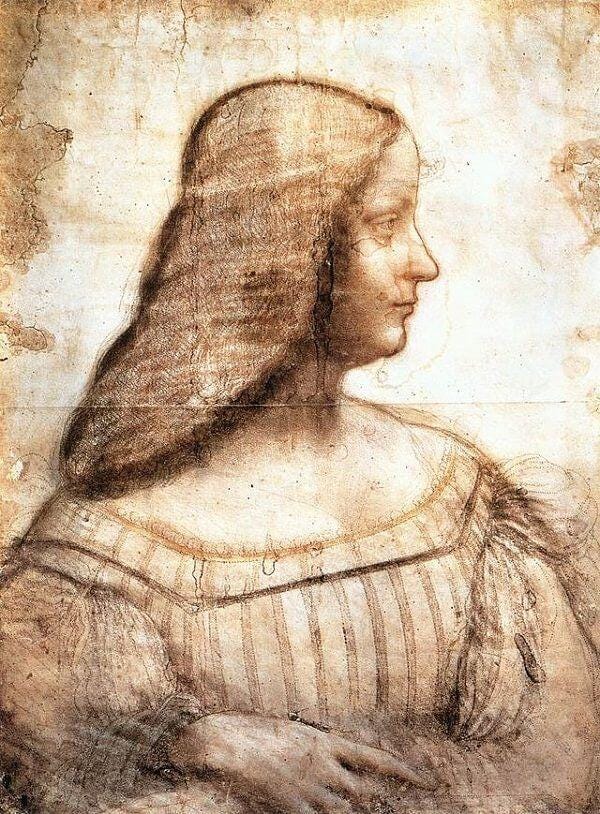 ---
The Gonzagas assembled one of Europe's greatest art collections, which was sold to Charles I of England in 1627-1628, the period when the novel begins (see the Mantua Purchase). I was so disappointed in learning this upon my first visit to the city, when I had expected to find the fifteenth century intact.
---
One of the world's first operas, Monteverdi's Orfeo (1607), was commissioned by Vincenzo Gonzaga, and premiered at the Mantua Court.
---
Day 8
"The utterances of a powerful and evil man are both piercing and elusive. He'll fret and fume at your suspicions of him at the same time as he confirms them. He'll insult you and say he's offended, ridicule you and consult your opinion, terrify and whine, be rude and irreproachable."
A poet before he became a novelist, Manzoni uses oxymoron to depict the deep contradictions inside man (although the use of "man" to describe humanity might be old-fashioned and sexist, I sometimes prefer it when talking about bad guys).
---
"When two strong passions clash in a man's heart, no one, not even the heart's owner, can clearly distinguish one from the other, and say with certainty which of the two will prevail."
Manzoni is often considered moderate, seeking a balance between extremes, but in a remark like this, all I see is his inner turmoil.
---
"Don Rodrigo, as we said, was pacing back and forth in the hall, making long strides between the walls from which generations of family portraits were hung."
The dark room, the grim portraits staring down, the tyrant alone with his insecurities. I hear the strains of an opera coming on. Perhaps Re Filippo's aria from Don Carlo?
---
Sign up for A Public Space's Newsletter
---